Mclaren 'Sporthome' Range
The Mclaren 'Sporthome' Range is based on the class leading Mercedes Sprinter and VW Crafter. The Sporthome is predominantly aimed at sport enthusiasts but can be modified and tweaked to accommodate a number of activities. The Sporthome name is given to any motorhome that has the ability to carry sports equipment. They are also known as Race Van and Motorsport Van Conversions.
Each Sporthome is individually designed to meet the requirements of the end users sport and lifestyle. Storage areas are suitable for a number of sports including Cycling, Motocross, Karting, Superbikes, Surfing and Fishing to name a few. Bespoke designs mean that we can customise or even build a completely new design to meet the customers exact demands. Living areas are designed and built using the same materials and high standards as our luxury motorhome range.
The Sporthomes unique strength lies in its flexibility to be both a transportation solution and leisure vehicle in one.
Prices start from £58,000 OTR on New 316 LWB Mercedes Sprinter.
Complete conversions on customer supplied vehicle from £20,000 plus VAT. Email sales@mclarensportshomes.co.uk for detailed specs and pricing.
| | |
| --- | --- |
| PROJECT TYPE | Sporthome |
| DATE | Sep 2018 |
| VEHICLE | Mercedes Sprinter 316 LWB |
| COLOUR | Iridium Silver Metallic |
This luxurious sports home was built for a client that needed a base for his Trials bike hobby and business. The customer approached Mclaren Sports Homes with a very specific brief.
Our team helped obtain the base vehicle and then sat down to design a vehicle that suited the client's exact requirements.
The client expressed their need for a fixed bed and also storage for Trials bikes and kit. In addition to the storage, we also installed a wet room with shower and full cooking facilities.
Once the base layout and essentials were specified we moved on to the fun part. Custom leather upholstery was chosen along with alloy wheels and custom sidebars.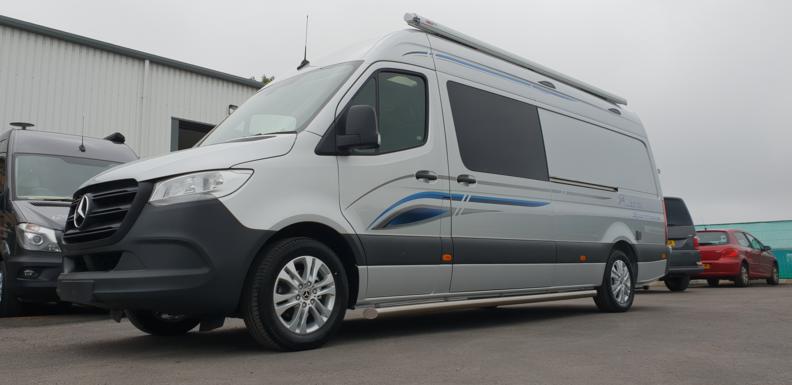 Get your project started...
Use the form below to send us a message or enquiry.